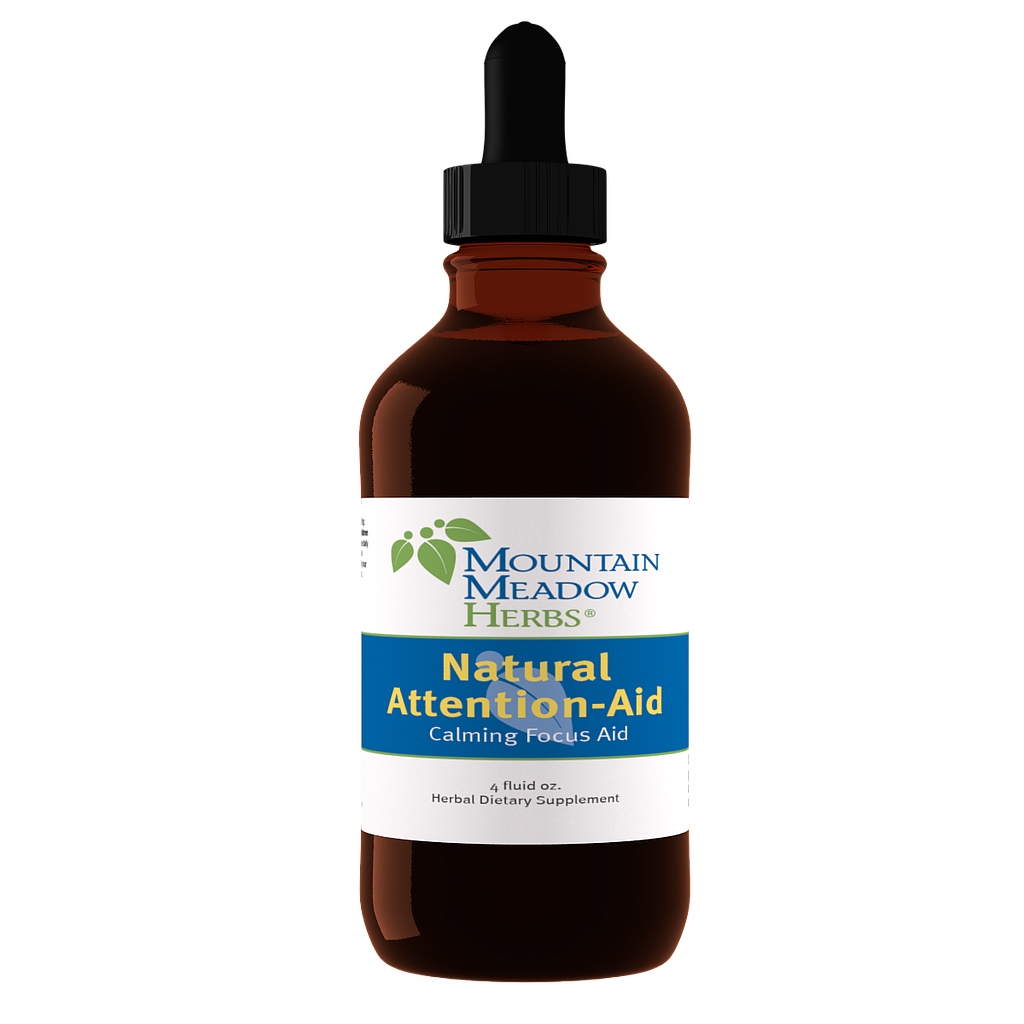 Natural Attention-Aid Liquid Herbal Extract, 4 oz (120 ml)
This potent blend of herbal extracts is designed to naturally support learning and mental alertness.
---
American Ginseng Root Extract: More often used as an adaptogen to help the body handle stress without becoming ill, this Ginseng is potentially helpful in improving the function of brain neurotransmitters such as dopamine and nor-epinephrine. May have a positive effect on brain cell communication and development.
Ginkgo Biloba Leaf Extract: With minimal side effects, Ginkgo has been shown to significantly improve frustration tolerance, concentration and immature behaviors. Ginkgo may improve blood and oxygen circulation to the brain allowing for better learning and less impulsiveness.
Gotu Kola Herb Extract: Rich in the nutrients needed for healthy brain function, better concentration and attentiveness, stronger mental clarity and less anxiety. It can also be soothing to the central nervous system.
Valerian Root Extract: While the main effect of this herb in humans is reducing the amount of time it takes to fall asleep and improved sleep quality, it may also lessen anxiety. Ease restlessness and calm aggression and it may even improve learning disabilities.
Ingredients
Ingredients: Vegetable glycerine, distilled water, approx. 5% organic grain alcohol, American Ginseng root, Ginkgo Biloba leaf, Gotu Kola herb, Valerian root.
Dosage
Adults and children 12 or more years of age 1/4 tsp.*, children 6-11 years 1/8 tsp.* 1-4 times daily in water. (*) 1/8 teaspoon = approximately 1 full dropper. Shake well before use.
Not suggested for children under 6 years of age. For children under 6, Herbal Calcium can be used to encourage calmer behavior. For older children, Herbal Calcium can be taken with Natural Attention-Aid when additional support is needed.
We suggest starting children with one dose per day for the first week and increasing only if more is needed (up to 4 doses per day). Use with caution if you are taking prescription anticonvulsive, anti-platelet and/or anticoagulant drugs (e.g. aspirin and warfarin). Discontinue use 7 days before any surgery.
Use with caution while nursing. Not suggested for expecting women.