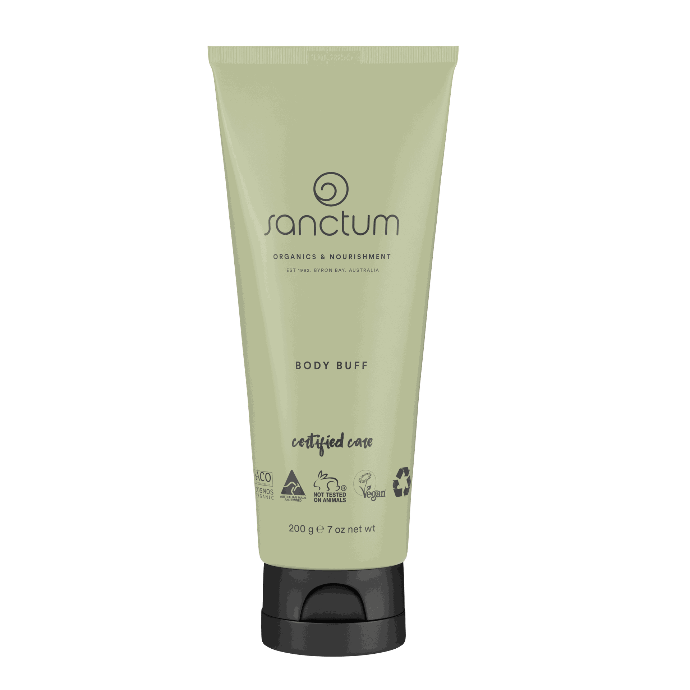 B002 Body Buff, 200 ml
 This invigorating body scrub gently exfoliates to remove dry skin and ingrained impurities. Your body will feel fresh and awakened.
---
Certified Organic 86% and 100% Naturally Derived
Gently scrubs away dry skin and ingrained impurities. Invigorates and rewards tired, weary skin. Olive leaf extract helps to stimulate circulation.
Ingredients
Aloe barbadensis Leaf Juice*, Decyl Glucoside, Olive (Olea europaea) Leaf Extract*, Glycerin*, Black Walnut (Juglans nigra) Shell, Aqua, Xanthan Gum, Luffa cylindrica, Lavender (Lavandula angustifolia) Oil*, Calendula officinalis Flower Extract*, Oak (Quercus robur) Bark Extract*, Honeysuckle (Lonicera caprifolium) Flower Extract, Chamomile (Chamomilla recutita matricaria) Flower Extract*, Rosemary (Rosmarinus officinalis) Leaf Extract, Honeysuckle (Lonicera japonica) Flower Extract, linalool
Dosage
Most Skin Types, not for Sensitive or Broken/Irritated Skin.
Morning or Night, 1-2 times per week. Shake well before use. Use in the shower or bath massaging all over your body and feet. Rinse off thoroughly.